Background: Under the Quality Payment Program (QPP), eligible clinicians face payment adjustments determined by their performance in the Merit-Based Incentive Payment System (MIPS) or choose to participate in the Advanced Alternative Payment Model (APM) track. Those in MIPS see their payments increased, maintained, or decreased based on relative performance in four categories: Quality, Cost, Promoting Interoperability, and Improvement Activities.
Clinicians participating in an Advanced APM are exempt from MIPS and were initially qualified for a 5% bonus payment. However, after the expiration of the 5% bonus, Congress reauthorized the bonus at a reduced rate of 3.5% for the year 2023. Additionally, the Centers for Medicare & Medicaid Services (CMS) has introduced a new alternative to traditional MIPS known as the MIPS Value Pathways (MVPs), which is a voluntary option for eligible clinicians.
The program continues to evolve at a macro level, as CMS has a vision to move providers out of 'traditional MIPS' and into other reporting options such as APP for Shared Savings participants, MVPs for those still in fee for service, and APMs for other provider programs. In addition, CMS continues to pursue the Universal Foundation. Providers need to be prepared for bigger shifts in their quality reporting strategies as CMS aligns programs under the National Quality Strategy.
Below we explore some of the key takeaways from the 2024 PFS Final Rule impacting the QPP program.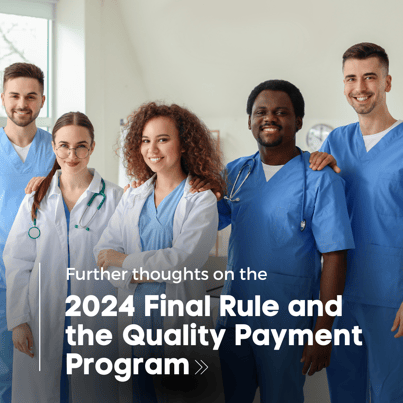 Merit-Based Incentive Payment System
Key Takeaway: CMS maintained the program threshold of 75 points to avoid a MIPS penalty.
To prevent a negative adjustment and qualify for a positive payment adjustment, a provider must achieve a MIPS total score that meets or exceeds a performance threshold. Historically, CMS had raised the MIPS performance threshold from year to year. However, during the COVID-19 Public Health Emergency (PHE), the agency maintained a 75-point threshold for two consecutive years, providing relief to MIPS participants by curtailing additional challenges associated with quality reporting.
In the proposed rule for 2024, CMS suggested increasing the MIPS performance threshold from 75 points to 82 points for the 2024 performance period. Under this proposal, CMS considered a "prior period" to establish the performance threshold, defined as an average of scores over three performance periods, rather than relying on the mean score from a single performance period. CMS's estimation indicated that if the threshold were increased to 82 points, nearly half of participants could potentially face a MIPS penalty. Based on a large number of comments in feedback, CMS has maintained the 75-point threshold, citing that at this level, 22% of all clinicians will see a negative MIPS payment adjustment and 78% will receive an incentive. At this rate, the incentives seen by clinicians could continue to be significant, as we saw for the 2022 performance year (at 8.25% for a score of 100 points).
Key Takeaway: CMS is considering revised policies for consistent high performers
CMS is exploring new policies for participants already classified as high performers. The rule expressed concern that such participants might consistently opt for the same measures and activities where they are confident in their performance. In forthcoming rulemaking, CMS is contemplating adjustments to scoring policies to incentivize these clinicians to continually enhance different facets of their clinical practice. Potential modifications may involve imposing more stringent performance standards, placing emphasis on year-to-year improvement in performance categories, or mandating that eligible clinicians report on different measures or activities once they have consistently demonstrated high performance in specific areas. However, the counter to that is that for many of the measures that high performers are reporting, the benchmarks continue to rise and hence, even with the same performance, the scores decrease.
Key Takeaway: Providers may need to re-examine their submission methods in 2024 and 2025
For the submission of MIPS data, providers currently have the option to utilize health information technology (IT) vendors, Qualified Clinical Data Registries (QCDRs), or qualified registries. Many providers utilize their health IT vendors (their EHRs) as the simplest method of submission, even though they may not provide the full breadth of measures that a QCDR or qualified registry provides. Due to apprehensions regarding inaccurate data submissions from these sources, CMS has decided to phase out the health IT vendor category (e.g. EHRs) starting from the 2025 performance period. Health IT vendors can still engage in MIPS as third-party intermediaries by voluntarily nominating themselves to become a qualified registry or QCDR, provided they meet the necessary requirements. However, they will no longer have the automatic capability to furnish MIPS data submissions. It will be interesting to see how many achieve qualified registry status.
A note on this that we cannot resist. We've noticed over the last year that CMS is becoming more rigorous in their monitoring of qualified registries and QCDRs, with many being put in remediation status or removed from the program. Providers should be cautious in their selection of a vendor as the program moves forward.
Key Takeaway: CMS will continue to emphasize MVPs
The MIPS Value Pathways (MVPs) serve as an alternative participation option aimed at encouraging clinicians to transition away from reporting on self-selected activities and measures, as seen in traditional MIPS. MVPs offer an aligned set of measure options designed to be more meaningful to patient care, foster better connectivity across MIPS categories, and be more relevant to a clinician's scope of practice.
While some stakeholders express concerns about discontinuing traditional MIPS in favor of MVPs, citing the untested nature of MVPs and uncertainty about options available for all participants, CMS took a significant step in the 2022 final rule. CMS finalized a proposal to introduce MVPs in 2023, established an implementation timeline, and defined specific MVP criteria. The launch included 12 different pathways reflecting various specialties and care settings.
In this latest rule, CMS has finalized several MVP proposals for the 2024 performance period/2026 MIPS payment year:
Introducing five new MVPs covering Women's Health; Infectious Disease, Including Hepatitis C and HIV; Mental Health and Substance Use Disorder; Quality Care for Ear, Nose, and Throat (ENT); and Rehabilitative Support for Musculoskeletal Care.


Consolidating the Promoting Wellness and Managing Chronic Conditions MVPs into a single primary care MVP.


Modifying the 12 previously finalized MVPs.
As a result, MVP participants now have a total of 16 MVPs available for the upcoming 2024 performance period 2026 MIPS payment year.
Stakeholders expressed reservations regarding whether MVPs represent a significant departure from the existing program. They also question the availability of MVP options for all participants and specialties. The overall community will watch which clinician groups opt to embrace MVPs in 2025 and the pace at which the transition away from traditional MIPS takes place. The evolving landscape will provide insights into the acceptance and effectiveness of MVPs as an alternative framework within the MIPS program.
As we've reviewed the MVPs, we've noticed that many of the quality measures included in 2023 had very high benchmarks. As such, providers that have contemplated reporting through this mechanism have reservations as scores may in fact be lower for these MVPs than for traditional MIPS. We believe that CMS needs to ensure that the MVPs contain measures that allow providers to achieve a high score without exceptional amounts of effort.
Contact us today to learn how we can help.