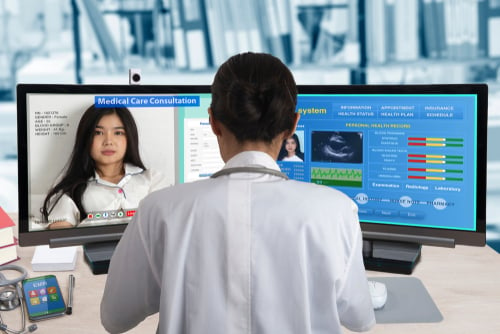 The Centers for Medicare & Medicaid Services (CMS) continues to relax regulations to enable hospitals, clinics and other providers to boost their front-line medical staff during the COVID-19 pandemic. This pandemic has created an urgency for expansion of the use of virtual healthcare to reduce the risk of spreading the virus. It has also created a need to relax practice restrictions and allow more flexible care practices to meet the needs of patients.
New telehealth rule updates have been released in the last week. Perhaps one of the most significant updates is allowing physicians to care for patients at rural hospitals "via phone, radio or online communication, without having to be physically present."
The latest CMS changes also reduce certification requirements for clinicians, with the goal of expanding workforce flexibilities and enabling practitioners to be hired quickly and "perform work to the fullest extent of their licenses." This builds on, and expands, the latitude already provided to telehealth funding, reimbursement and regulation by CMS and Health and Human Services (HHS). Allowing physicians located outside the rural facilities coordinate with nurse practitioners and others at rural facilities will offer a more robust healthcare workforce during the pandemic, said CMS officials.
In addition, CMS is also now allowing nurse practitioners (NPs) to perform medical exams on Medicare patients at skilled nursing facilities, and permitting occupational therapists to perform initial assessments on patients at home. Hospice nurses are also being allowed to spend more time focused on patient care rather than training tasks.
"It's all hands on deck during this crisis," said CMS Administrator Seema Verma. "All frontline medical professionals need to be able to work at the highest level they were trained for. CMS is making sure there are no regulatory obstacles to increasing the medical workforce to handle the patient surge during the COVID pandemic."
With the shift in healthcare regulations, allowing most in healthcare to practice 'at the top of their license', it begs the question of where we go after the COVID-19 crisis subsides. When we ask NPs and other healthcare practitioners to step up to take on more responsibility during a time of crisis, will we permit them to continue after the crisis subsides?
It's also been cited that there is an addressable telehealth market of 400 million remote healthcare visits per year, yet prior to the pandemic, only 1.25 million visits were performed via telehealth. As telehealth visits expand logarithmically, patients are finding that they appreciate the telehealth visits during the pandemic. Many are wondering why it took a crisis for this approach to be adopted. Furthermore, now that it has been utilized, will this become part of the new normal after the COVID-19 pandemic is resolved.
You can join us this week for a webinar about CMS changes and telehealth by registering here.
If you are a provider that is eligible for MIPS, see our list of quality measures that can be reported for telehealth services here.
For the latest updates, resources and to learn how Healthmonix is supporting the healthcare industry at this time, view our COVID-19 updates page. Let us know your thoughts as well, on the changes CMS is rolling out.