Discover the game-changing impact of the 2022 MIPS Final Score Preview period as we delve into the long-awaited return of Cost category scores after 3 years. The implications for providers' total MIPS scores are profound, and we have the insights you need to navigate this transformative shift.
Read on to understand the full picture.

The Cost category weight has jumped from 15% to 30% of the total score, while the threshold for avoiding a penalty and achieving a MIPS incentive has increased from 30 points to 75 points. Additionally, the number of cost measures has risen from 10 in 2019 to 25 in 2022.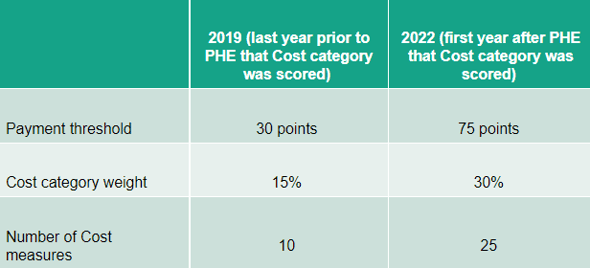 We reviewed approximately 1,000 Final Score Previews for 2022 and saw the following distribution of Cost category scores:
Let's examine some examples from our client feedback reports to demonstrate the impact of the Cost category on 2022 scores and provide insight into what to expect in 2023. The first example is a small practice that didn't receive a Promoting Interoperability score: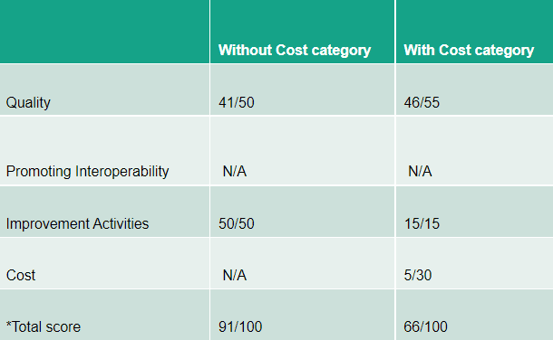 *This doesn't include the complex patient bonus.
In this example, the Cost category score significantly dragged the overall MIPS score down. The provider went from anticipating receiving an incentive to seeing a penalty.
Now let's consider a larger practice that reported scores for the Quality, PI, and Improvement Activities categories: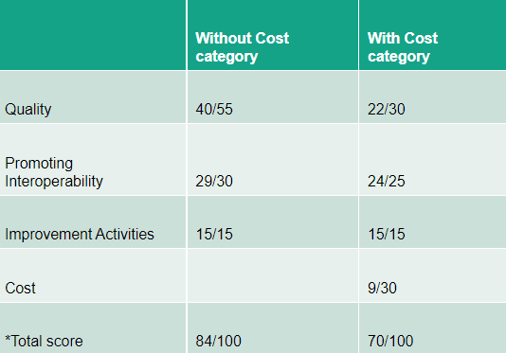 *This doesn't include the complex patient bonus.
Once again, the Cost category score dragged down the overall MIPS score. This provider also went from incentive to penalty territory.
If many practices land in these situations, it could lead to increased penalties. That would in turn lead to larger incentives for those performing well in the program.
What is the impact?
While CMS has made the Cost category an important part of the MIPS program, practices have limited information to assess the impact. Each practice needs to access their scores through the QPP portal and review the measures that contribute to their scores.
Currently, practices can only see the total score for 2022 performance during the Final Score Preview period. Once Final Scores are released, access will be provided to the final list of measures scored and the patient-level data supporting those measures. By analyzing the attributed measures and CMS' calculation methods, practices might better understand their performance.
CMS will continue calculating Cost scores in 2023 and future performance years. Cost scores apply both to Traditional MIPS and the new MIPS Value Pathways (MVPs). While participating in an MVP reduces the number of cost measures scored, the Cost score will remain a significant part of the total MIPS score.
Staying informed about the impact of the Cost category and regularly accessing performance scores through the QPP portal is essential for practices navigating the MIPS program. By closely analyzing the measures and calculations, practices can make informed decisions and strive for improved performance in the future.