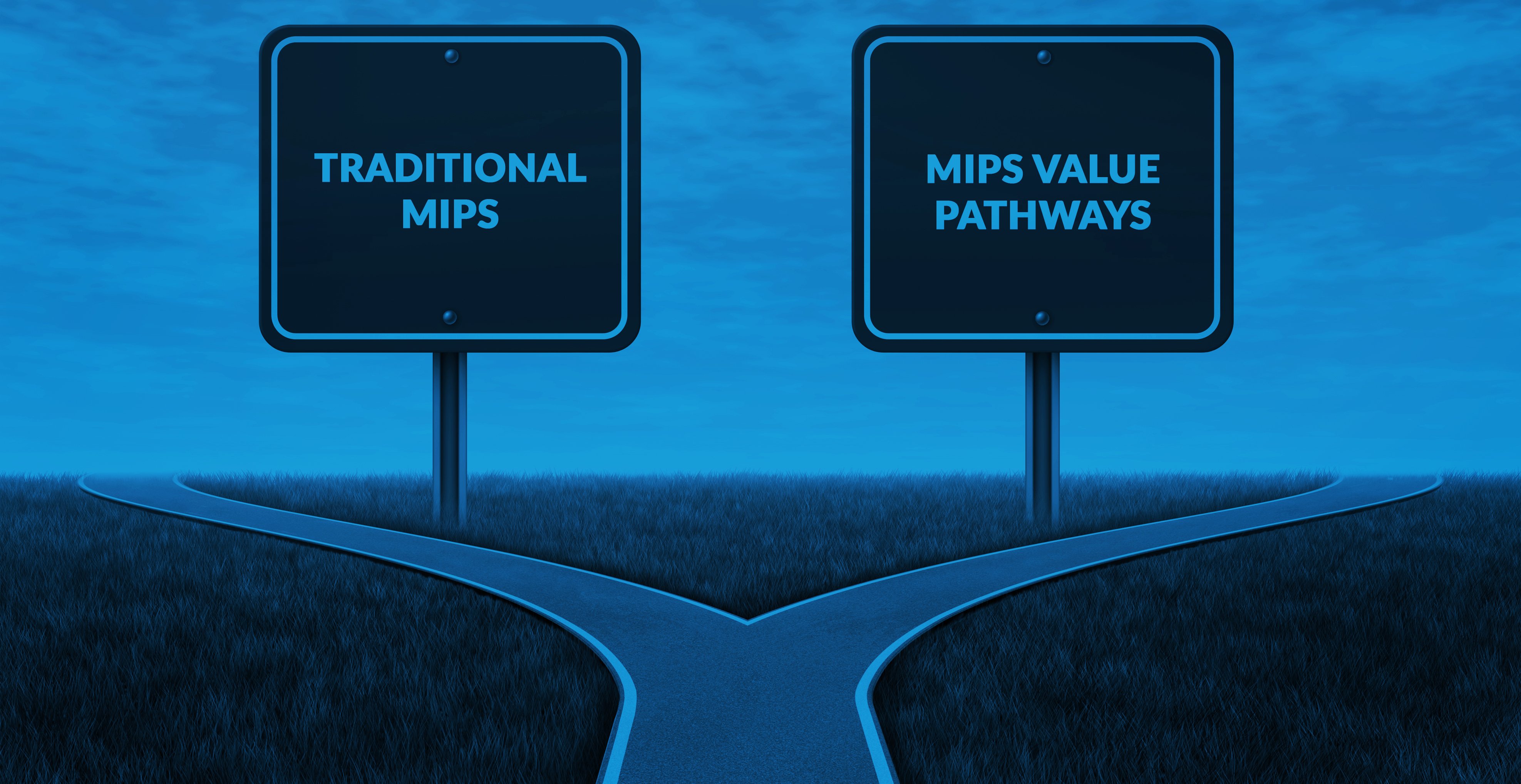 There has been much talk around MVPs in the CMS quality reporting arena. MVP means MIPS Value Pathway, and it's a reporting framework that CMS is communicating as (a) the next evolution of MIPS and (b) a transition tool for getting to other alternative payment modules. As CMS continues to define and refine their vision of the MVPs, they have started to call the current framework 'traditional MIPS' to prepare for the inclusion of the MVP option. You'll see this when you visit the QPP site. That said, how can MVPs affect MIPS?
It appears that MIPS will segment into two reporting tracks: Traditional MIPS and MVP (MIPS Value Pathways). Traditional MIPS is the current reporting structure and will continue to be available. The new MVPs will provide the ability to report a targeted group of Quality measures and Improvement Activities, and include specific Cost measure(s), as well as the continuing foundation of Promoting Interoperability, the existing Population Health measures in Quality, and a Patient Centered component. We don't have a clear definition on this Patient Centered component quite yet, nor how the Administrative Quality measures will change into the Population Health Measures.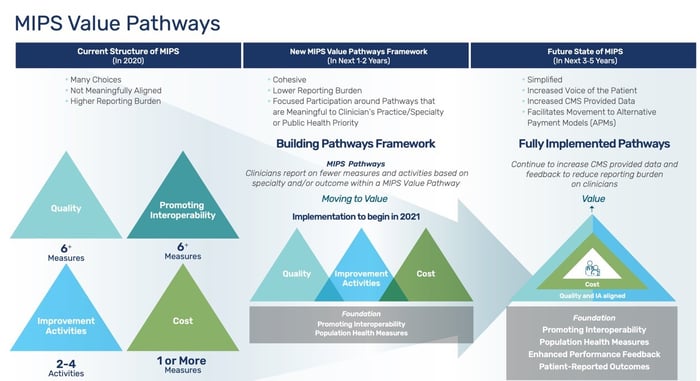 Download an enlarged version of the chart
The advantages of MVPs are that they were more targeted towards specialties, and they provide a more meaningful set of measures for providers. CMS feels they will be more cohesive in the patient groups that are addressed and there will be a lower reporting burden. Currently, CMS is seeking definitions for MVPs and each must contain only three Quality measures and at least one Cost measure. The MVPs also may be aligned with existing or future alternative payment models from CMS and CMMI, providing an easier transition to APMs.
The first year that MVPs will be available may be 2022. Whenever they become available it is pretty clear that they will be optional for at least the first year. CMS still has many details of the program to be worked out. Some details that are still to be determined include:
Who is eligible for each MVP? (is there a threshold for certain activities before providers can participate)

When is eligibility determined? (before / during / after the performance period)

Do MVPs ever become mandatory for certain providers?

Does a group elect an MVP prior to the performance year?

If there are subgroups in a TIN, each with their own MVP, how will they be identified and how will scores be applied? (to each subgroup or averaged across the TIN)

How will benchmarks work? (if there is a measure in an MVP and also in traditional MIPS, for example)

How will EHRs and Registries support these MVPs?

Does the creation of MVPs de-incentivize cross-team care of patients?

How is the patient voice included?
So, as you can see, there are many areas that need to be addressed. CMS held a town hall on January 7, 2021 to discuss these topics. It was an all-day meeting and many specialty groups, hospital representatives, individual physicians and registries came together to discuss possible approaches to the above. CMS is currently soliciting MVPs from groups that can be implemented, potentially as soon as 2022. They have also put forth a couple as examples, including a diabetes care MVP and a surgery MVP. It appears these may be the first MVPs.
It's good to keep up-to-date, however, at this point, there is little planning that can be done. At Healthmonix, our team of experts is keeping up with the vast array of changes and how they might affect your reporting. Stay tuned for additional updates, we'll share as we move forward. In the meantime, learn about the Healthmonix Approach to attacking value-based payments, and contact us for support with your quality reporting goals.