Quality measures are tools used to improve patient care in a standardized way. Each year, the Centers for Medicare & Medicaid Services (CMS) publishes new measures aimed at measuring identified gaps in care in the healthcare sector.
As we dive into the world of quality measures and their crucial role in enhancing patient care you can also check out our webinar on MIPS Reporting where we give you strategies for measure selection and building better workflows for this years reporting.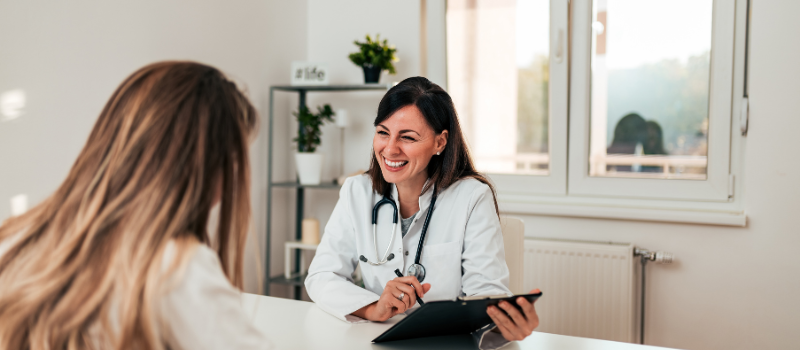 CMS published nine new measures in 2023: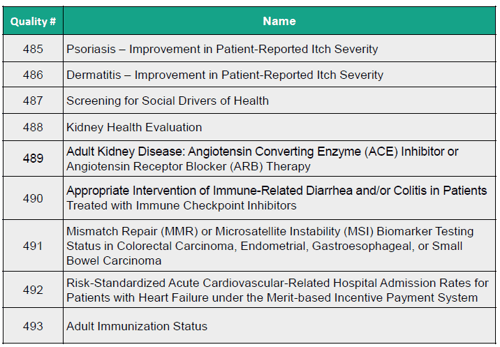 New Dermatology Measures
Two of the new measures are related to dermatology. These measures will help address past and current concerns of dermatologists, who have said they lack clinical quality measures related to their specialty.
If chronic pruritis isn't treated correctly, it can have a large impact on quality of life. Potential problems include depression and global distress. (1)
The new dermatology-related measures look at adult patients diagnosed with moderate to severe psoriasis and dermatitis. They're designed to evaluate whether patients show significant improvement in itch severity by considering patients' voice and experience. The hope is this will impact the current standard of care to meaningfully improve patient health and decrease patient cost.
Health Equity
Health equity is a metric that hasn't been included in the MIPs quality measure inventory. Social Drivers of Health (DOH) has been directly linked to patient health outcomes. (2)
The Screening for Social Drivers of Health measure requires that patients be screened for these DOHs. By identifying concerns and helping patients improve their drivers of health, providers can help produce better health outcomes. Achieving health equity is a top priority for CMS, and measure 487 is a first step in collecting data to meet this goal.
Kidney Health
Kidney health is a serious issue that hasn't been a part of the MIPs quality measure inventory. Measures 488 and 489 focus on nephrology and kidney health as related to diabetes. Almost 9% of American adults currently live with Chronic Kidney Disease (CKD). (3)
Ensuring that diabetic patients are screened for kidney health is key to identifying any decline of kidney health and providing care to treat the disease. Identifying those patients with CKD earlier provides nephrologists an opportunity to prescribe Angiotensin Converting Enzyme (ACE) Inhibitor or Angiotensin Receptor Blocker (ARB) tTherapy. ACE/ARB therapy encourages lower rates of kidney failure, better cardiovascular outcomes, and lower mortality. (4)
Immune Check Point Exhibitors
Targeting early interventions drove CMS to publish measure 490. Diarrhea and colitis are adverse effects cancer patients experience when on immune checkpoint inhibitors. This measure's goal is to identify patients who have grade 2 or higher adverse side effects and ensure that appropriate treatment is provided as early as possible.
While diarrhea and colitis are common, they may become life-threatening when immune-related if they aren't treated within an appropriate timeframe. (5)
Pathology
Like dermatologists, pathologists have had difficulties selecting measures directly related to their practice. Measure 491 addresses this issue for pathology. Pathologists play a crucial role in informing patients about tumor characteristics. This understanding can inform medical decisions and increase correct diagnosis rates.
Vaccines
Vaccines are vital to disease prevention. There's a critical gap, however, in adults getting their immunizations. Measure 493 addresses this gap in care.
Without vaccinations, we see an increase in severe diseases. This leads to an increased likelihood of hospitalizations, which drives up healthcare costs.
By monitoring the persistence of influenza vaccines, Td or Tdap vaccines, Herpes Zoster live vaccine, and pneumococcal conjugate vaccines, and ensuring patients are compliant with their required vaccine schedules, CMS plans to see if there's a decrease in severe diseases.
In conclusion, the new quality measures published by CMS in 2023 are a significant step towards improving patient care and addressing gaps in healthcare.
Get a free Gaps in Care Overview here.
(Lee, J., Suh, H., Jung, H., Park, M., & Ahn, J. (2021). Association between Chronic Pruritus, Depression, and Insomnia: A Cross-sectional Study. JAAD International, 3, 54-60. https://www.sciencedirect.com/science/article/pii/S2666328721000122)
Sullivan, T. (2022). New Report on Social Drivers of Health and Physician Practice. Policy & Medicine.
National Kidney Foundation. (2019). About Chronic Kidney Disease. Retrieved October 9, 2019, from
(https://pubmed.ncbi.nlm.nih.gov/23732715/).
Acharya, U.H., & Jeter, J.M. (2013). Use of Ipilimumab in the Treatment of Melanoma. Clinical Pharmacology: Advances and Applications, 5, 21 - 27. https://doi.org/10.2147/CPAA.S45884.