We call it "Informal Review Season". You could also call it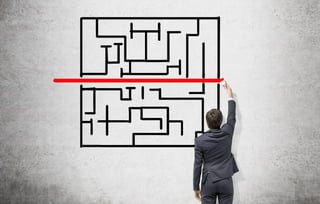 "the Nightmare Vaguely Before Christmas" for
providers who bill Medicare Part B services. The 2015 PQRS Informal Review season (this year September 26th through November 30th) is that most wonderful time of the year when practitioners and practice administrators nervously await the release of feedback reports in September. Instead of children wondering whether or not they've made Santa's list, you've got providers and practitioners feverishly paging through their QRURs to see exactly how naughty or nice they are, according to CMS. (Note: Documents released in the fall of 2016 pertain to the 2015 PQRS or VBM reporting period).
If you are a member or representative of a large group or practice, your practice might have someone experienced at reading CMS feedback reports and interpreting the data for your practice. If you don't have the benefit of that kind of experience, you might be a little gun-shy when it comes to tackling complex feedback documents coming from CMS. But don't be shy: Taking even a cursory look into your Feedback Reports can give you critical information about your practice, practice improvement, and how to improve on your reporting for the 2016 reporting period.


The Need to Know
The Annual QRUR and the Payment Adjustment Feedback Reports are the two feedback reports every provider or practice needs to know. Both documents are available whether you pass or fail PQRS.
To paint with very broad strokes: The Annual QRUR is the definitive document that describes exactly how well your TIN fared for the Value-Based Modifier, both for a solo practitioner or a representative of a group practice. It explores how well a TIN performs for both quality and cost components. For PQRS, this is largely big picture stuff. The Annual QRUR will tell you whether or not 50% of your providers in a TIN passed or failed PQRS. It will also reveal your domain scores for cost and quality if you have enough qualifying data (i.e., at least 20 patient visits for a measure in a particular domain).
The Payment Adjustment Feedback Report is where the rubber meets the road for PQRS reporting. These are some of the most salient features of the report:
It gives feedback across all reporting mechanisms (Registry, Claims, QCDR, etc.)

It is available at either the NPI or TIN level

It should have "big picture information" about successfully reporting, being subject to the payment adjustment, whether or not you passed or failed registry MAV, etc.

It breaks down reporting rate, performance rate, and the number of eligible instances, for each measure

It tells you whether you passed or failed reporting for each measure
Obviously, there's a lot of information in these reports, but at the end of the day, what you want to glean from them is threefold:
Did I successfully report for 2015?

Can I learn anything about a success or failure in 2015 to assist me with 2016 reporting?

Is there anything I need to do right now with my 2015 information (i.e., before the Informal Review window for 2015 closes)?
As a CMS Qualified Registry, we take great lengths to support our users through the Informal Review process. The first edition of our Customer Support Newsletter featured Informal Reviews and encouraged our readers and customers to take the time to investigate the outcome of their 2015 reporting (we also discuss reasons why practices fail their reporting). With CMS, it literally pays to be prepared and informed. Don't be shy—stop and take a look at where you are on CMS' list.


Helpful Links