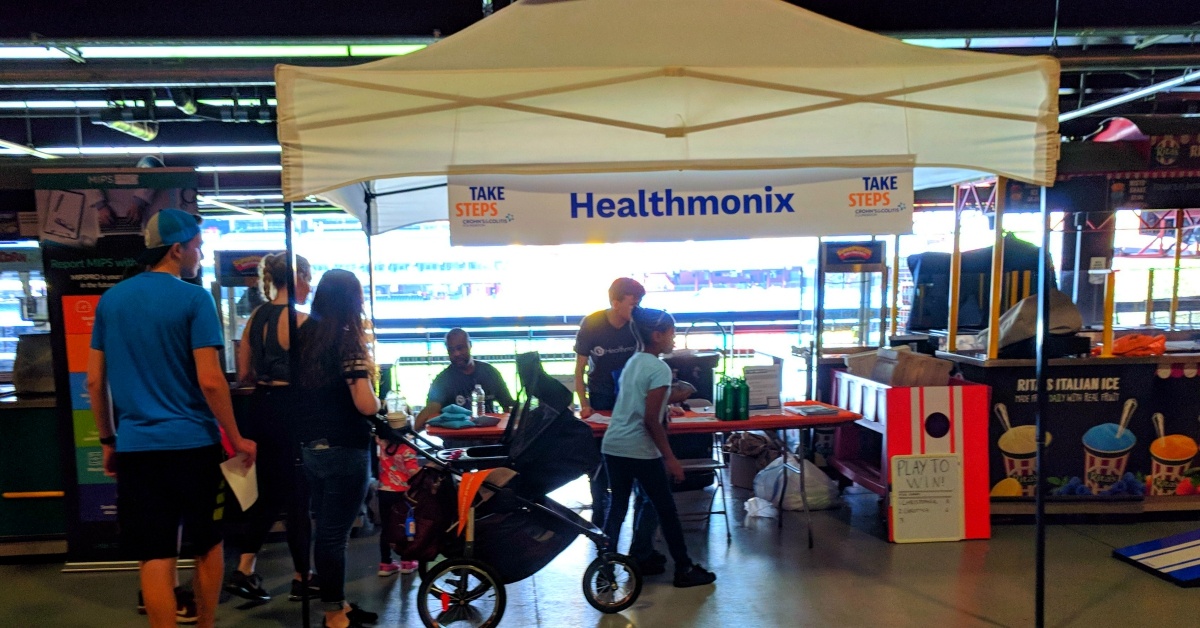 This past Sunday, I was fortunate enough to attend the Philadelphia Take Steps Walk. Sponsored by the Crohn's and Colitis Foundation and organized by members of the local community, this event raised $388,000 to fight inflammatory bowel diseases (IBD). Hundred of patients, providers, and organizations met at Citizen's Bank Park here in Philadelphia to enjoy an educational festival, celebrate loved ones fighting IBD, and walk through the stadium and field as a show of solidarity to anyone suffering from these diseases.
Healthmonix exhibited and showed support to our community (as well as hosting some fun bean bag toss games), and I have to say that this event felt unique. Never before have I attended an event that so perfectly encapsulated the patient experience everyone in healthcare wants to see. Every part of the continuum of care was represented: families of those dealing with IBD, individual healthcare professionals, and prominent health systems like CHOP, Drexel Medicine, Penn Medicine, and so many others. Despite the diverse array of attendees, the focus was singular: improving life for those with IBD.
In many ways this event showed how patients want to be treated, and how a large health system should treat those patients. I could outline dozens of small exchanges I experienced that illustrated this healthy, powerful dynamic, but there are a few highlights and insights that especially struck me:
Patients want easy access to care.
One prominent feature of this event was the ability to speak with a doctor right there. Booths that had a health professional available to discuss digestive health were marked on the event map and with signs. People were lining up to speak with someone about their condition, or the condition of a loved one. As a person with family and friends suffering from IBD, I was excited to speak with these professionals. We spoke about treatment regimens, as well as stories of people adapting to overcome their disease.
Even the exhibiting pharmaceutical companies were welcoming to those seeking more information. One of my favorite souvenirs from the event was a tool to measure the diameter of a stoma created from a colostomy. It changed the dynamic of control over care and put the patients fully in charge of their care. They felt empowered and received the things patients seem to crave most: one-on-one interaction with a doctor.
It's impossible to be everywhere, but showing up to an event like this was a great way to make a hospital with hundreds of employees feel like part of the community and family. Finding and occupying the spaces where patients are looking for answers is more than half the battle.
Care goes beyond the individual patient.
One especially striking thing about this event was how few people attended alone, or with a group smaller than four people. Whole families showed up and sponsored teams to run. You can view the totals for each team on the walk's website, but we're talking local families with handmade shirts and outfits, pulling together over $10,000 of donations for this event.
It's easy to forget when considering things like cost of care, insurance, and readmission rates, but healthcare can bring people together. When a disease affects one member of the family, it affects every member of the family, and we need to make sure that we aren't excluding anyone. The Take Steps Walk helped families actively get involved in the continuum of care, and that meant happy people and patients.
The community gets things done.
One of the most exciting moments during this event was seeing live fundraising for the Crohn's and Colitis Foundation. To kick off the walk, the organizers shared how attendees can donate from their cell phones in real time, and they projected the total amount raised onto a scoreboard. Within 5 minutes, over $5,000 was donated, and the number kept climbing. During the rest of the walk, people were able to donate (and still are) in order to support the cause, but those brief minutes of people banding together to make a difference stick out as the highlight for me. This shows that the ones driving the action are the patients and individuals involved in their care. Whether it's Crohn's and Colitis, Breast Cancer, ALS, Autism, or any other condition, these people are where we see the difference begin and grow.
A few of the exhibitor booths were empty at this point in the event. For the attendees, that sent a message that maybe they aren't as invested in this particular cause as others. Maybe it meant that they didn't have the experts available to be there. Maybe it meant they just got a flat on the way over. No matter the reason, though, the opportunity to get involved in the continuum of care at this level was missed by too many, and that really is irreplaceable.
Visit the Take Steps website to find out more about this event or to donate to the cause.