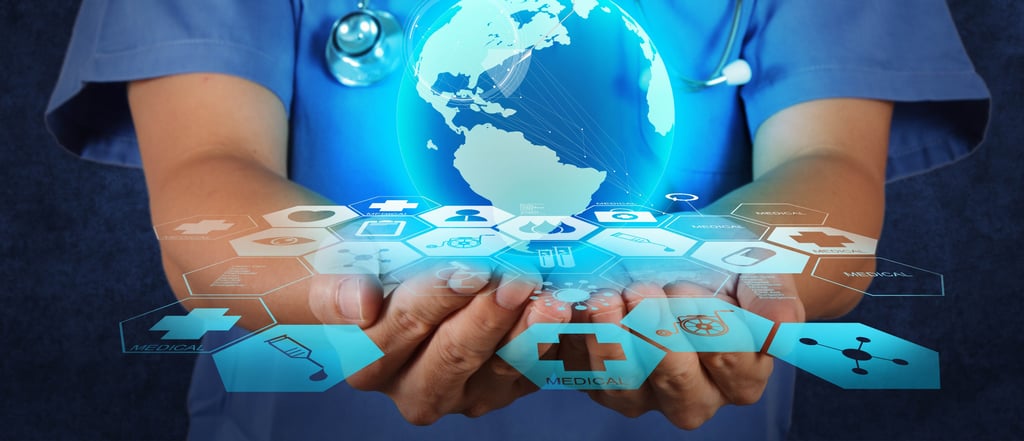 When I was in college, MIPS used to stand for "millions of instructions per second," a measurement of how fast your computer performs. With MACRA on the horizon, MIPS now stands for "Merit-Based Incentive Payment System." While its aim is to measure value of care, MIPS is now a measurement of how fast your practice can accommodate pay-for-performance reimbursements. With MIPS fast approaching, preparing for the upcoming changes is critical.
Who is considered an eligible clinician for MIPS?

Since the legislation was published in late April, there have been a few misconceptions about who exactly will be impacted by the program. To be clear, when MIPS launches in 2017 it will apply to all physicians, physician assistants, nurse practitioners, clinical nurse specialists, certified registered nurses, anesthetists, and groups that include any of these types of providers. Currently, it is also planned that MIPS eligible clinicians will expand to include Physical / Occupational Therapists, speech-language pathologists, audiologists, nurse midwives, clinical social workers, clinical psychologists, and nutritional professionals for the 2019 performance year.
MIPS Eligible Clinicians
Performance
Year

Adjustment Year

MIPS Eligible Clinicians

2017+

2019+

Physicians, Physician Assistants, Nurse Practioners, Clinical Nurse Specialists, Certified Nurse Anesthetists

2019+

2021+

Physical / Occupational Therapists, speech-language pathologists, audiologists, nurse midwives, clinical social workers, clinical psychologists, dietitians/nutritional professionals
There are three exemptions for MIPS eligibility. Otherwise eligible clinicians who are in their first year of Medicare Part B participation, who bill ≤ $30,000 OR see ≤ 100 part B patients in the performance year, or who are participating in a qualifying Advanced Alternate Care Model (APM) will be exempt from MIPS participation.
What will participation look like?
CMS estimates that in 2017, as many as 55% of eligible clinicians will be participating in MIPS, 35% percent will take part in an Advanced Alternate Payment Model, and as few as 10% of eligible clinicians will accept the steep penalty for non-reporting. Data reported in 2017 under the MIPS program will be used to determine the first Composite Performance Score (CPS) to be applied to 2019 claims. The CPS, to be calculated at the individual NPI/TIN level, will range from zero to 100 points, and the influence of each performance category on the CPS will vary over the first few years of MIPS. Eligible clinicians will have their CPS for the 2017 performance year published, along with a breakdown of performance under each of the four performance categories of MIPS, on the Physician Compare website managed by CMS in late 2018. The CPS data will be available to the public, including patients. This aspect of MIPS could be another factor in the decision to prepare quickly, as it could both positively and negatively impact your ability to recruit and retain patients.

"Because the focus across the country will be on MIPS performance in the early years, IT leaders should prioritize support for clinicians' success in MIPS."1 Most advisors to healthcare organizations say that the largest step to preparing for MIPS is; participation in PQRS2 in 2016 – with this category comprising 50 percent of the score in 2017, it's a must!
At this point, you may be wondering how exactly your MIPS Composite Performance Score will be calculated. Each year, CMS will assign a weighting factor to four categories of measurement. These weighted categories link closely with existing CMS programs, and were made with the goal of linking quality and value.
Below are the proposed weighting categories for 2017: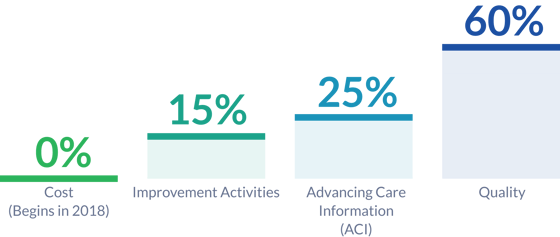 1 Via The Advisory Board
2 If you would like to learn more about how to get started with PQRS reporting, then I recommend you check out the PQRSPRO "Getting Started with PQRS Reporting" webinar. This webinar is designed to be inclusive of all levels of PQRS familiarity, and to provide a starting point for efficient PQRS reporting in 2016.