The 2023 Physician Fee Schedule (PFS) Final Rule was released in November 2022, finalizing many of the promised features of accountable care organizations (ACO) quality reporting. A couple weeks ago, I wrote about the Quality reporting requirements and Healthmonix's strategies to approach the upcoming changes. For Part 2 of this discussion, I will be introducing the new Health Equity Adjustment and why it will impact quality reporting moving forward.
Part 3 will cover the move from all or nothing scoring to a scaled approach.
Once again, if you are a visual learner, you can get most of this information from  our latest webinar.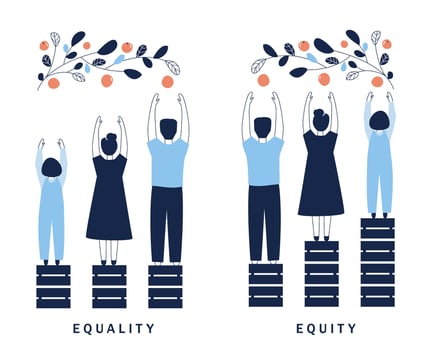 So what is health equity? The CDC defines it as "the state which everyone has a fair and just opportunity to attain their highest level of health". But it's more than that. It's not about giving everyone the same access and tools – it's about providing individuals with the same opportunity for the best health. Healthcare is not evenly distributed throughout the United States. Improvements have been made, but individuals who have varying economic statuses, educational levels and come from different neighborhoods do not have the same options and access to quality care. Also, health equity discriminates against age, gender identity, disability, sexual orientation, race, and ethnicity amongst other factors.
The word "equity" was mentioned 747 times in the Final Rule. CMS has made health equity a part of all the programs under MACRA. Along with the Health Equity Adjustment, they are adding a new MIPS measure called "Screening for Social Drivers of Health". This measure will cover patients 18 and over who were screened for food insecurity, housing instability, transportation needs, utility difficulties, and interpersonal safety. This may be the highest denominator eligible patient measure, as it has no diagnosis that will limit the patient population. I promise you that this is the beginning and there are many more changes to come.
Why is CMS making this such a big part of quality reporting?
Well, it's two-fold. First off, it's the right thing to do and we all know it. Secondly, it's to encourage ACOs to adopt the eCQM/MIPS CQM program earlier than 2025. ACOs have been vocal in their concerns about the all-payer model that will become mandatory in 2025 and is optional until then. Among their concerns, ACOs who have larger disadvantaged patients (including Medicaid and rural populations) will be negatively impacted by the all-payer program. Medicaid patients are mostly in some type of health equity disadvantage and much more likely to have negative outcomes. Those outcomes impact MIPS quality measure performance.
New in 2023, CMS is adding a Health Equity Adjustment to ACOs quality scores to combat discrepancies between different patient populations and encourage program adoption.
The adjustment could increase an ACO's quality score by a maximum of 10 points for those who qualify.

The adjustment is only available to ACOs who report eCQM/MIPS CQM through the

APM Performance Pathway

, and not to those who report via the CMS Web Interface.
In the charts below, I will walk you through the four-step process that will determine an ACO's final quality score.
Step 1 – Determine Performance Group
CMS will assign a value for each of the six quality measures and the corresponding performance group.
4 for top performance

2 for middle performance

0 for bottom performance
In the chart below, CMS shows the quality performance of six different ACOs. Each group represents different levels of measure performance. The maximum score for step 1 is 24 , with the minimum score being zero.

Step 2 – Determine Underserved Multiplier
CMS will use the higher of the following two factors to determine the multiplier that will be used for this step:
Proportion of Performance Year assigned beneficiaries with an ADI national rank of at least 85
ADI national rank utilizes neighborhood data that identifies populations that are at a disadvantage when it comes to health equity

Disadvantaged neighborhoods' health outcomes, including 30-day readmissions, cancer survival, poor end of life care, and longer lengths of stay are clearly identified through this data
Proportion of Performance Year assigned beneficiaries that are enrolled in LIS or are dually eligible for Medicare and Medicaid
LIS is a national measure capturing individuals receiving Part D

Step 3 – Calculate Health Equity Adjustment
Multiplying the numbers from step 1 and step 2 will provide the total points for the health equity adjustment. ACOs must meet the minimum percentage of underserved individuals which is 20% to be eligible.

Step 4 – Compute Final Quality Score

In my opinion, CMS is headed in the right direction, but they are far away from this making an actual impact on underserved populations. They will be successful in driving ACOs to be more willing to hold on to providers that see a large portion of underserved populations. It also will encourage ACOs to adopt the all-payer model sooner. I question what this actually does for patients. Is there a negative impact? Does this set lower standards for the underserved population? For example, should we accept higher A1-Cs from that population?
I believe that as early as 2024, CMS will add the Social Drivers of Health MIPS measure to the ACO measure set. After testing the measure in the MIPS population, they will have all they need to apply the measure to the ACO measure set. Clinicians just asking the questions for this measure will start bringing attention to their underserved populations, but will it be enough to make an impact? Identifying these patients is one thing, but acting on that information is a whole other thing. That is when the true benefit of CMS's plan will be seen.
The Healthmonix team is here to support your ACO with all of the changes in quality reporting. Contact us with any questions, and stay tuned for our next blog on the move from all or nothing scoring to a scaled approach.