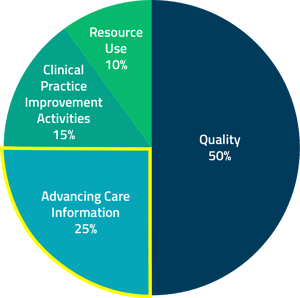 Last week, we discussed what clinicians are eligible for MIPS, the base score for Advancing Care Information (ACI), and what the performance period is for ACI. This is part two of our "5 Key Facts You Need to Know for Advancing Care Information" series.
Per the blog post last week, the proposed rule for MACRA's MIPS, effective January 1, 2017, the Meaningful Use electronic health records (EHR) incentive program will be folded into the Merit-Based Incentive Payment System (MIPS) for Eligible Providers. The successor to Meaningful Use, known as Advancing Care Information, includes fewer measures than the current program, intends to provide more flexibility in meeting those criteria, and stresses the use of technology to improve patient care.

ALERT:
This post was published before the release of the MACRA final rule on 10/14/2016. Please view our
MIPS website
for up to date regulations.
Advancing Care Information (ACI) is one of four components that will be considered when determining payment adjustments under MIPS, and will account for 25% of you MIPS Composite Score.

To read about the first 3 key facts, please refer to Part 1 of this blog post.


Your ACI performance score is calculated for 8 out of the 11 measures.

The performance score allows for a 30 point margin of error while still allowing for the possibility of a perfect ACI Performance Category score. At first glance, this may seem confusing, but the math boils down to 10 possible points awarded per performance score eligible measure. Clinicians will be awarded between 0-10 points, based on the percentage of times performance was met for that particular measure. For example, if 94% of patients are provided with timely e-access to their health information, 9.4 points would be awarded for that measure. If only 53% of patients met performance for that measure, then only 5.3 points would be awarded. By this logic, if you are meeting performance for an average of 62.5% of all measure eligible instances, then you will be able to receive 50 points in this category. When combined with the 50 points that will be awarded for participation, this will award you all 25 points available for the ACI performance category of the MIPS CPS.
Advancing Care Information (ACI) Objectives and Measures
Objective

Measures

Counted for Performance
Score?

Protect Patient Health Information

Conduct or review security risk analysis and implement security updates as necessary

no

Electronic Prescribing

At least 1 permissible prescription transmitted electronically

no
Patient Electronic Access
At least 1 unique patient/family rep provided timely e-access to their health information
yes
At least 1 unique patient provided e-access to patient-specific educational materials
yes
Coordination of Care through Patient Engagement
At least 1 unique patient / family rep actively engages with EHR via VDT or API
yes
Secure message sent (or responded to) for at least 1 unique patient / family rep
yes
PGHD or data from non-clinical setting incorporated into CEHRT for at least 1 unique patient
yes
Health Information Exchange
At least 1 transition of care / referral summary of care (SOC) is created & e-exchanged
yes
At least 1 transition of care / referral summary of care (SOC) is e-received and incorporated
yes
At least 1 transition of care / referral clinical information reconciliation is performed for (1) Meds (2) Med allergies AND (3) Current problem list
yes
Public Health and Clinical Data Registry Reporting
Immunization registry reporting (plus 4 optional registries)
no
Reporting ACI can be done individually or as a group through a variety of reporting mechanisms.
ACI, like the other MIPS Performance Categories, can be reported individually or as a group. For individuals and groups alike, the options of Attestation, QCDR, Qualified Registry and EHR are available for data submission. For a group reporting (25 or more eligible clinicians), the additional option of the CMS Web interface is available.
Because of the aligned nature of the MIPS performance categories, it is likely that you will be able to find a mechanism that can handle all of your data submission for each category. To learn more about how this will work, register to attend one of our free MIPS webinars.

In summary, the proposal improves MU for Eligible Providers. It gets rid of the "all-or-nothing" approach, which often gave no credit to those providers on the verge of compliance. The ACI scoring method affords flexibility, allowing providers to choose to target certain measures to boost their scores—even if they underperform on other metrics.
However, the ACI Performance Category does reduce alignment between MU EPs and Eligible Hospitals (EH)—reversing gains that CMS took great pains to achieve in 2015. Hospital staff who are responsible for MU could struggle to keep track of varying program requirements and onboard their Medicare EPs to MIPS/APM.

Note that generally, MACRA did not change hospital participation in the Medicare EHR Incentive Program or participation for professionals in the Medicaid EHR Incentive Program.
Stay tuned for additional updates on the various components of MACRA's MIPS and what they mean for your organization.