As a young adult from a small town in Ohio, the prospect of leaving my hometown to go to college was a frightening one. I was anxious to leave the familiarity of my high school, and the routine I had perfected to remain an A student. The only expectation that I had was given to me by my teachers, who reported that college would be significantly different and more challenging than high school. As I packed up my '63 International Scout to drive to college in August of 1975, the fear of failure was present and strong. However, when I arrived, I found the classes were similar, the pedagogical approach was the same, and as long as I showed up and did the work, I could do as well as I did in high school.
I think healthcare professionals and health systems will have a similar experience with MIPS. If you've been participating in PQRS, Meaningful Use, or professional / institutional performance improvement, you'll find that half of your work is done. MIPS consists of four categories that connect back to existing CMS Quality Initiatives and standard practice activities. Moving to the new program will require that you adapt to alterations proposed by the new MIPS categories, which are outlined below.
MIPS is Like a Weighted GPA
As you may remember from your own educational experiences, GPAs are calculated by taking a grade earned in a course and weighting that grade by the number of credit hours. Performing well in a 6 credit-hour biology lab is more important to your overall GPA performance than a 1 credit-hour gym class. MIPS is similar, in that each component will be weighted differently.
MIPS Eligible Clinicians will receive a score for each individual MIPS component. Those scores will then be weighted by category to come up with a MIPS Composite Performance Score (CPS). This CPS will be the number that is used to determine a practice's penalty or incentive.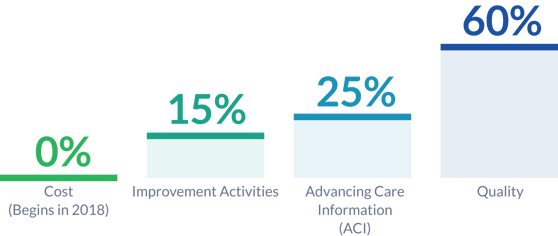 As you can see, having a solid foundation in existing quality initiatives (particularly PQRS) will aid you greatly when reporting for MIPS. If you haven't started reporting PQRS yet, I would recommend you check out the PQRSPRO Getting Started webinar to get caught up in time for MIPS!
What is MIPS?

MIPS stands for the Merit-based Incentive Payment System, and is replacing all other CMS Quality Initiatives starting in the 2017 performance year. Like its predecessors, MIPS aims to link quality and value, attributing penalties and incentives to Medicare reimbursements based on the MIPS Composite Performance Score (CPS).
MIPS is an amalgamation of three existing programs, streamlined to reduce the burden to eligible clinicians. As noted in "Learn How MACRA Can Inflate Your Revenue," there is a direct link between PQRS and the Quality Peformance Category, Meaningful Use and the Advancing Care Information Peformance Category, and the Value-Based Modifier and the Resource Use Peformance Category.
PQRS ⇒ Quality Performance Category

The Quality Peformance Category is PQRS reconfigured and optimized, per CMS. Providers will report their PQRS / Quality data in much the same way as in years past. The MIPS quality performance reporting requirements are in some respects less onerous than the current PQRS requirements.
Key changes include:
Current PQRS Program Requirement
Change Proposed by MIPS
Report 9 Individual Measures
Report 6 Individual Measures
Measures cover 3 NQS domains
Measures cover 2 NQS domains
Measure groups are reportable
No measure groups, specialty measure sets instead
Report 50% of eligible instances for Medicare Part B patient visits
Report 5

0%

of eligible instances across all payers
One cross-cutting measure
One outcome or "high priority" measure
The most important change is that once your data is reviewed, the reimbursement incentive / penalty is based not just on successful reporting, but how the reported quality scores compare to other providers. Each measure is worth up to ten points. The points are determined by assessing how the score stacks up compared to all other providers. If it is average, then 5 of the 10 points will be included. If it is low, fewer are included; high, up to all ten points can be included.
In summary, quality reporting will remain much the same, but the bottom-line impact will be much more significant.
Meaningful Use (MU) ⇒ Advancing Care Information (ACI)

Peformance Category

This category is Meaningful Use updated to make it more customizable, flexible, and focused on patient engagement and interoperability.

Major updates from the current Meaningful Use program are:
Many measures will be removed due to redundancy

Dropped 'all or nothing' threshold for measurement

Eliminated Clinical Provider Order Entry and Clinical Decision Support objectives

A performance score will be associated for each of the measures that remain
Providers can achieve half of the category score by reporting at least one use case for each available measure. Additional points are available for high performance scores on the reported measures and public health reporting. This is a major simplification to the current convoluted regulations for Meaningful Use.
Value-Based Modifier (VM) ⇒ Resource Use

Peformance Category
The Resource Use category is Value-Based Modifier updated to add episode specific measures to address specialty concerns.
Major updates from the current Value Modifier program include:
Reduction of current VM measures from six to two
Removal of total per capita cost measures for the four condition-specific groups
Proposed introduction of up to 41 other episode-based measures
Attribution can be to a group (as before) or an individual (new)
Quality Improvement Activities ⇒ Improvement Activities

Peformance Category
Currently, the quality improvement activities that you perform in your practice are not considered by CMS. They have been an implied part of all three programs, but your efforts were only represented in the calculated results of PQRS, MU or VM. MIPS is changing this by introducing the Improvement Activites component.

Now, each activity you perform will be worth 10 points, with "high value" activities being worth double the weight. The full list of Improvement Activties is currently available!

For additional information and developments on MIPS, please sign up for our blog.